Steven D. Stahle MD

Sports Medicine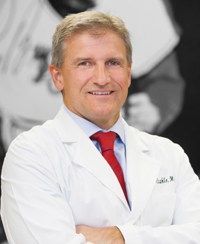 Steven D. Stahle MD
Dr. Steve Stahle had dedicated his life to sports and sports medicine. He combined his passion for sports with his academic drive in math and science when he decided to pursue a career in medicine. Dr. Stahle graduated with honors from The University of Iowa School of Medicine in 1991. He then completed his residency training at Phoenix Baptist Hospital where he served as Chief Resident. While training in Phoenix, Dr. Stahle worked with the Phoenix Suns and Arizona State University athletes. He was awarded a prestigious Sports Medicine Fellowship at the world renowned Cleveland Clinic Foundation. During his fellowship, Dr. Stahle worked with several professional sports teams including the Cleveland Browns, Cleveland Cavaliers, and the Cleveland Ballet, along with providing medical care for the Cleveland State University athletes.
The original premise for opening the medical practice was to provide the unprecedented primary care, sports medicine and orthopedic care for St. Louis and the surrounding Midwest states. He served as the St. Louis Marathon Medical Director for several years and continues to provide medical care and consultation to the St. Louis Track Club. Dr. Stahle provides independent medical consultation at his practices in St. Louis and at sites around the country for professional athletes who train all over the world.
Dr. Stahle is the first St. Louis physician trained in the use of the FAST procedure in treating serious soft tissue tendon injuries. He currently runs the only clinic in St. Louis solely dedicated to the FAST procedure. This procedure is considered a proven major break-through in the treatment of plantar fasciitis and tennis elbow. Dr. Stahle is currently researching the use of FAST for treatment of other tendon injuries including knee, hamstring and shoulder.
Dr. Stahle is considered a regional pioneering expert on the use of Platelet Rich Plasma for treatment of soft tissue injuries and arthritic conditions. His research has increased the overall management of arthritis, and dramatically decreased the recovery time of musculoskeletal injuries. He is also currently researching stem cell advancements for musculoskeletal conditions.
Dr. Stahle is one of the country's leading experts in the use of nonsurgical therapy used to treat the pain of knee arthritis. Dr. Stahle currently performs the Coolief procedure under local anesthesia for patients wanting to avoid major surgery and obtain knee pain relief.
Dr. Stahle is dedicated to maintaining the health of young athletes. He has provided volunteer medical coverage to St. Louis area High School football teams for 15 years. He is an expert in the field of football related concussions. Dr. Stahle is also passionate and highly knowledgeable about the use and abuse of nutritional supplementation, growth hormone, and steroids. He works closely with local athletic trainers, personal trainers, and strength and conditioning coaches who are training young St. Louis athletes to inform them of new research, rules and regulations, and other physical safety matters. He regularly educates and consults with area coaches/pros regarding overuse injuries in young athletes including tennis, baseball, soccer, and cross country.
You will need the Adobe Reader to view and print these documents.